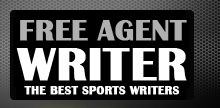 Yankee Addicts
Categories
Featured Sponsors
News published by
December 21, 2010
Colt McCoy said something Sunday that raised a few eyebrows in Cleveland. After the on-again, off-again Browns dropped their second straight game to a two-win team—this time to the Cincinnati Bengals—McCoy ...
November 8, 2010
The Cleveland Browns' remarkable back-to-back victories over NFL powerhouses New Orleans and New England have provided this humble writer with an important reminder: So much for "keen-eyed" observation. After rookie Colt McCoy ...
October 29, 2010
As the Cleveland Browns end their bye week and begin preparing in earnest for their game with the New England Patriots on Nov. 7, the stark reality of life in ...
October 4, 2010
Seneca Wallace turned in another solid, if not spectacular, performance Sunday, as the Cleveland Browns finally got over the hump and secured their first win of the season, a 23-20 ...
September 11, 2010
There is reason for optimism in Cleveland as the 2010 NFL season gets underway. Mike Holmgren is president of the franchise, replacing what's-his-name. Tom Heckert is the general manager, taking ...
August 16, 2010
Go ahead, Cleveland. Be giddy.For another day or two, smile all you want.Saturday night in Green Bay, a huge step—make that a giant leap—was taken by your Browns in their ...
August 10, 2010
Pardon me while I go against the grain for a moment, but I'm getting a little concerned about all of this Josh Cribbs exposure. First, a disclaimer: I love how good ...
August 4, 2010
I will remember Brett Favre most for how many times he retired, unretired, and debated retiring—and that's sad. I'm not kidding. I've thought about this a lot over the last two ...
July 20, 2010
Ten years ago, Mike Holmgren changed the face of the Seattle Seahawks when he selected Shaun Alexander out of Alabama in the first round of the 2000 NFL draft. ...
July 13, 2010
When people think of the Cleveland Browns, they think running backs. There have been greats at other positions. In the 1940s and '50s, there were greats at almost every position. There has ...