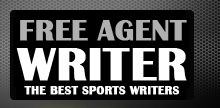 Yankee Addicts
Categories
Featured Sponsors
News published by
March 18, 2010
Truth be told, the last great Giants linebacker that I have a cognizant memory of seeing play was Jessie Armstead. As fate would have it, I was not lucky enough to ...
March 4, 2010
  After years of screaming his name in frustration following a false start or holding call, even I struggled to believe that anyone could become a bigger team Pariah than Luke ...
March 3, 2010
Updated 3/3/2010**** I created this Mock draft, as if it were to happen tomorrow, with no influence from possible trade scenarios or free agent pick-ups. Enjoy. 1.  St. Louis Rams (1-15) Sam Bradford, QB, ...