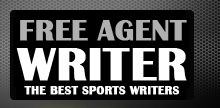 Yankee Addicts
Categories
Featured Sponsors
News published by
September 3, 2011
The Tampa Bay Buccaneers cut their roster to 53 late Saturday and there were no great surprises. Wide receiver Ed Gant gave it his all on Thursday night against Washington, ...
April 26, 2011
Mark Dominik has said more than once he has two priorities for this Tampa Bay Buccaneer football team. First and foremost, keep Josh Freeman upright, healthy, protected and able to do what ...
April 22, 2011
"I have a fundamental belief I stole from the Jets. I don't think you can ever have enough cornerbacks." --Tampa Bay Buccaneer GM Mark Dominik  Jon Gruden couldn't get enough ...
April 13, 2011
Goodness, the 2011 NFL schedules haven't been delivered to us yet, and here comes this ugly bag of burning dog poop on the front steps of Tampa Bay Buccaneer season ...
March 30, 2011
Young, dumb and wealthy. Young for now. Wealthy for the time being. Dumb? Well, that's been a way of life for the Tampa Bay Buccaneer cornerback known as Aqib Talib. ...
February 23, 2011
Back when the Buccaneers signed tight end Kellen Winslow, there was major concern about his oft-nagging injuries, his lousy knees and his past behavioral history. Today, Winslow has been a valuable ...
February 1, 2011
The Green Bay Packers are still the slight two-and-a-half point favorite to win this Super Bowl XLV and if you poll the Steeler Nation, they would like to know why. ...
January 27, 2011
Aaron Rodgers will literally have millions of eyes on him come Super Bowl Sunday. Mega-millions. Which leads to the question: Is there more "green" and "gold" in the offing for the Green ...
January 25, 2011
Charles Woodson may or may not have voted for Barack Obama last go-round but he's looking for a post-Super Bowl trip to the White House to visit the man in ...
January 25, 2011
Green Bay Packers linebacker Clay Matthews has been doing some reading. "I always say defense wins championships. We've been playing some very good ball all across the board," says the Packers ...