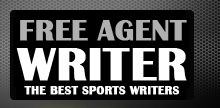 Yankee Addicts
Categories
Featured Sponsors
News published by
November 25, 2010
Since I am out of town visiting family for the week, I just want to weigh in (short and sweet potato-like) with a few comments and a prediction for today's ...
November 12, 2010
The Heat is On in Detroit. I was recently listening to a Detroit radio station the other day and you would have thought that the Lions of 2009 had advanced to the playoffs last ...
November 4, 2010
Over the past several weeks/days there have been a variety of member articles espousing the belief that the Lions need to look outside of the organization for additional talent.  Some of the ...
October 31, 2010
Yes—I am one of the 40,000 who bought a ticket so don't blame me for the blackout.  Before I head down to the game, I though I would put out a pregame ...