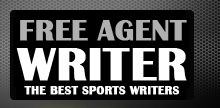 Yankee Addicts
Categories
Featured Sponsors
News published by
June 22, 2013
Competition has remained consistent since Mike Shanahan has been at the helm in DC.The Washington Redskins' front office doesn't appear to play favorites either; your veteran status or draft selection ...
January 16, 2013
The foundation has been built. From the NFL draft, to free agency and trades, the Redskins have accumulated a roster that is built to win consistently. While the majority of ...
November 7, 2012
Here's the Redskins' schedule for the duration of the season: Eagles, at Dallas, Giants, Ravens, at Browns, at Philly and the Cowboys. Those opponents have a combined 26 wins and ...
June 2, 2012
Mike Shanahan has developed many strategies upon his arrival as coach. One of them is competition. At almost every position, athletes on the roster have been competing with their teammates during training ...
March 31, 2011
Oh, those poor Redskins and their depressed fans.  Names like Albert Haynesworth, Deion Sanders, Brandon Lloyd, Jeff George and Jason Taylor make people sick.  Picking on one of the most ...