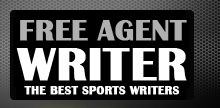 Yankee Addicts
Categories
Featured Sponsors
News published by
October 6, 2010
Twitter strikes again. After an accidental tweet by "Sports Guy" Bill Simmons of ESPN's Page 2, trade rumors have circulated that New England Patriots receiver Randy Moss is on the ...
September 20, 2010
So, we all know Madden has been the best selling sports video game of the last twenty years, but do we know if the game can put on ...
August 14, 2010
  When the Dallas Cowboys drafted Dez Bryant with the 24th pick this past April, sitting in my living room all I could think was "Wow, they got one hell of ...
August 13, 2010
Have we learned nothing from the Jordans, Lesnars, and Barkleys, that crossing over into the unknown is generally a bad idea for pro athletes? For every Herschel Walker going into MMA ...
August 3, 2010
Brett Favre is reportedly calling it an NFL career, after long personal deliberation. After a stellar 2009 season where Favre had undoubtedly found the fountain of NFL youth, Favre's ankle injury stemming ...
July 25, 2010
The St. Louis Rams are reportedly nearing a deal with Terrell Owens for the upcoming NFL season. Sporting a receiving core of Donnie Avery, Laurent Robinson, and rookie Mardy Gilyard, ...
July 23, 2010
Every year, the NFL Draft builds a story line from the end of the college season until that fateful day in April which shapes franchises for at times the next ...
July 19, 2010
Every year, the NFL's elite running backs treat us to electrifying displays of speed, athleticism or run-you-over power, and along the way, it leads to debate: Who is the best ...
July 17, 2010
In the first of the "10 for 2010" lists, I'll breakdown the 10 best receivers in the NFL, entering this season. As the NFL season approaches, many NFL players are making ...
June 20, 2010
We've all heard it dozens of times before. "Such and such player is 29. He's got about one good year left" "Why's that?" "Don't you know running backs drop off at 30?" That conversation ...