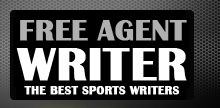 Yankee Addicts
Categories
Featured Sponsors
News published by
July 18, 2012
During the 2011 NFL regular season, we saw three head coaches fired midway through the season: Tony Sparano, Todd Haley and Jack Del Rio were all unable to survive the ...
June 30, 2012
The National Football League is far from predictable. We all know the saying that a team can win on any given Sunday—but that also holds true for saying any team ...
June 9, 2012
With the Miami Dolphins set to be the focus of HBO's Hard Knocks this season, the thought was that the show could be a little dry—but things could spice up ...
May 26, 2012
Just a week ago, there was a significant chance that the New England Patriots were going to add yet another weapon to their already crowded arsenal when they hosted former Indianapolis ...
April 8, 2012
Heading into the 2012 NFL draft, the New England Patriots still have a variety of needs on both sides of the ball despite spending an offseason signing offensive players left ...
March 21, 2012
The NFL may be in its offseason but Tebowmania is still storming across the nation—but not just in the way that we're accustomed to. Now that Peyton Manning is officially the quarterback of ...
March 14, 2012
Over the course of NFL history, we have seen our fair share of bad decisions in the free agent market.We have seen teams go out into free agency and simply ...
March 5, 2012
Before I even begin, I would like to point out that the most recent decade was probably the most exciting eras of football that any one of us have ever ...
February 26, 2012
Now that day four of the 2012 NFL combine is officially over we can evaluate the results from Saturday in Indianapolis. We saw some players struggle, but then we saw a ...
February 5, 2012
Whenever there's an award that involves voting, there's always going to be someone who gets dissed. For the first-ever NFL Honors ceremony, the AP pretty much did a great job and ...