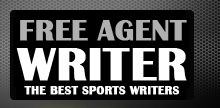 Yankee Addicts
Categories
Featured Sponsors
News published by
April 6, 2010
McNabb was traded to Washington for a second-round pick this year and a third or fourth-round pick next year. That's where he wanted to go and Philadelphia really, ...
March 25, 2010
The Eagles' faithful never wanted McNabb in town to start with—now, they seem to have grown tired of the errant passes and of seeing him come up short so ...
March 14, 2010
Ben Roethlisberger is facing another sexual assault investigation, this time in Georgia and is the second in the last two years. Ben still has the civil case from the rape ...
February 14, 2010
I had to get my weekly hair cut. Being that I am still in Chicago, the only Barber Shop I know is A+ Plus Cuts—and they did deliver an A+ ...