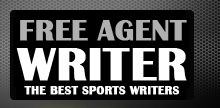 Yankee Addicts
Categories
Featured Sponsors
News published by
May 19, 2015
San Francisco 49ers tight end Vernon Davis took to Instagram on Tuesday to let everyone know how much he misses the NFL season.However, a former teammate might not be buying ...
May 12, 2015
Green Bay Packers quarterback Aaron Rodgers proved Tuesday that he knows more about the world than just football.The 31-year-old appeared on Celebrity Jeopardy, taking on Kevin O'Leary from Shark Tank and astronaut Mark Kelly.Rodgers came ...
May 8, 2015
Deflategate has returned to the national spotlight with news coming from Gary Myers of the New York Daily News that Tom Brady will be suspended by the NFL next week. One person ...
May 5, 2015
When you're a professional athlete with an affection for shoes, sometimes you have to get creative with how you store your sneakers.For San Francisco 49ers quarterback Colin Kaepernick, that meant ...
May 5, 2015
Say what you want about Mike Wallace, but the 28-year-old Minnesota Vikings wide receiver certainly doesn't lack confidence. Wallace believes that he's still the fastest player in the NFL, claiming that ...
May 5, 2015
The Indianapolis Colts had one of the more intriguing drafts compared to the rest of the league this past weekend. Despite glaring needs on defense and top-tier prospects available in ...
March 27, 2015
New England Patriots tight end Rob Gronkowski continues to enjoy his offseason.The 25-year-old was enjoying himself during the Ultra Music Festival in Miami this week. During 3LAU's set, Gronk came ...
February 8, 2015
The New England Patriots have been making the rounds since their Super Bowl XLIX win last weekend, and they were given a warm welcome before the Boston Bruins played the ...
January 31, 2015
Seattle Seahawks running back Marshawn Lynch used to play high school basketball at Oakland Technical High School in Oakland, California, backing up former NBA player Leon Powe at center. Once, ...
January 31, 2015
The NFL might not want Seattle Seahawks running back Marshawn Lynch to grab his crotch during Super Bowl XLIX, but others wouldn't have a problem with it. If Lynch is fined ...