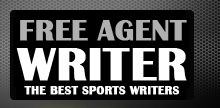 Yankee Addicts
Categories
Featured Sponsors
News published by
May 4, 2014
Despite signing a litany of free agents this offseason to fill in for a considerable number of departed 2013 starters, the Carolina Panthers' offseason hasn't received much attention to this ...
May 2, 2014
With the NFL Draft just a week away, the debate over how high receiver Brandin Cooks should be drafted is heating up and signs are pointing up for Cooks' stock—and ...
March 29, 2014
Dave Gettleman is heading into his second season as the general manager of the Carolina Panthers and in the precarious position of rebuilding a 12-4 division champion. I emphasize the word rebuilding ...
December 18, 2011
The Cam Newton effect has been well documented, but what other players have contributed to a renewed sense of hope in Carolina?Let's put aside the allure of potential and concerns ...
April 13, 2011
The talent of the ACC has been overshadowed this offseason by the hype coming out of the SEC. With Da'Quan Bowers' fall from the top of many mock drafts, the ...
November 24, 2010
With the help of the following featured columnists, I have compiled another installation of our NFL Featured Columnist Poll. Dan Van WieEric BallMichael GartmanMichael2 KellerJay DeeJeff ShullLou DiPietroJack GormanMihir BhagatChris CluffElliot PohnlRM ...
September 13, 2010
Week 1 is the most important week of the season. It's the time for questions to be answered and it also gives us a chance to make a meaningful analysis. Before ...
August 12, 2010
In honor of Randy Savoie. Drew Brees' comeback story is one of the greatest in sports history. Just a few years back, the Saints were the only team willing to take ...
August 2, 2010
The Panthers are undoubtedly being marked off to win the NFC South this season. Not so fast though. The Panthers are an improved team and will compete for the division ...
July 6, 2010
A talented NFL running back can be found in any round of the draft. Their success in the NFL is determined mainly by the situation they fall into. Whether they ...