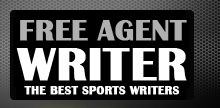 Yankee Addicts
Categories
Featured Sponsors
News published by
April 25, 2016
Trent Richardson's climb back to NFL relevance will be a steep and arduous one with zero guarantees. Literally.According to USA Today's Tom Pelissero, the running back's contract with the Baltimore ...
April 18, 2016
From the looks of it, Derrick Henry is as physically prepared for the pros as one can be.Just ask Green Bay Packers running back Eddie Lacy, seen standing shoulder-to-enormous-shoulder with ...
April 8, 2016
O.J. Simpson: sprinting down the field, playing with his kids, sitting in a courtroom.In the two-minute trailer for O.J.: Made in America, these images, along with video of Rodney King's ...
March 21, 2016
Look! It's Bill Belichick!What you're seeing, however, is simply a man smiling, wearing a tropical button-down shirt and hanging out with Kid Rock.After all, there's no way the notoriously expressionless ...
March 11, 2016
According to NFL Network's Rand Getlin, Brent Grimes has already moved on from his Miami Dolphins days, procuring a two-year, $16.5 million deal from the Tampa Bay Buccaneers.His wife Miko, ...
March 10, 2016
Von Miller isn't reacting negatively to the news of former Denver Broncos teammates Brock Osweiler and Malik Jackson flying the coop.In fact, it's much the opposite. He's taken to social ...
February 29, 2016
Rivalries within the NFL's AFC North are so intense, they've gone international.Just ask Pittsburgh Steelers running back DeAngelo Williams. While trying to demonstrate his dedication to the Black and Gold all ...
February 22, 2016
All New York Yankees can check their attitudes at the door—along with any other excessive outward emotions or opinions.Following the trend of encouraging progressively more prescribed athlete reactions, the renowned ...
February 22, 2016
Former NFL running back Marshawn Lynch is still taking time to coach up some high school athletes despite his decision to hang up his cleats as a pro.But perhaps it was more than just ...
February 12, 2016
Being a three-time NFL Defensive Player of the Year may be its own reward, but it certainly doesn't come without other benefits. Take, for example, your own exclusively brewed beer.While visiting ...