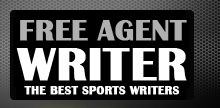 Yankee Addicts
Categories
Featured Sponsors
News published by
February 25, 2011
Well, like most Raiders fans, I felt certain Al would find a way to sign Nnamdi Asomugha. Judging by the recent signings in Oakland though...it appears Mr. Davis has not only ...
December 24, 2010
We all know the big names in Oakland, Seymour, Nnamdi, McFadden etc. But this slide is for the guys who do their job every Sunday, but still get no pub. ...
December 17, 2010
Recent news concerning Raiders offensive coordinator Hue Jackson has included tension with current head coach Tom Cable, and an emergence as one of the leading head coaching candidates for the 2011 season. All ...