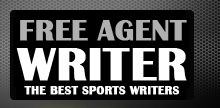 Yankee Addicts
Categories
Featured Sponsors
News published by
February 6, 2011
Everyone has their own opinion and prediction on who the winner of Super Bowl XLV will be.   And most Packer fans will say the Packers will win and most Steeler ...
January 19, 2011
In this slide presentation, I am going to illustrate how the Green Bay Packers will win Sunday against the Chicago Bears. I am not backing up my opinions with any ...
September 21, 2010
What a fun NFL season this is turning out to be.   There are teams that are winning that no one but their fans would expect and other team's that seem ...