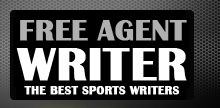 Yankee Addicts
Categories
Featured Sponsors
News published by
March 28, 2014
It's official, Mark Sanchez is an Eagle. He heads down the I-95 to Philadelphia for greener pastures.  The last two tumultuous years with the Jets are fading in the rear ...
September 24, 2013
So the Jets have made huge jumps in many NFL power rankings.  Don't get carried away Jets fans.  This is not a repeat of 2009.  The regression toward the mean ...
May 20, 2011
    Can someone please explain to me why the Jets drafted Greg McElroy?    A young accomplished QB?  Attention New York Jets!!!!  You already have a young accomplished QB.  His ...
January 3, 2011
Just a few thoughts as we head into the playoffs; here is some of what I wrote about the Jets last week.  "I'd like to see if the Jets' offense ...
December 27, 2010
Jets, Jets, Jets.  You've got to play 60 minutes of football.   Yes, the Jets are in the playoffs and in an eerily similar fashion to last year.  I won't say ...
December 16, 2010
I think this Jets' loss to Miami was arguably worse than the shellacking at the hands of the Pats. At this point, there is no shame in losing to ...