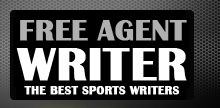 Yankee Addicts
Categories
Featured Sponsors
News published by
January 6, 2011
The sports betting world is focused on the NFL Wild Card Weekend, and the NFL betting lines are shifting constantly. Before we can get to the Super Bowl betting, we ...
October 20, 2010
The Washington Redskins and the Chicago Bears are both coming off of Week 6 losses. The betting enthusiasts are still trying to figure out the Redskins. The prevailing notion is that ...
October 13, 2010
Not even the sports betting experts want to hazard a guess as to who will come out on top in the NFL betting between the Minnesota Vikings and Dallas Cowboys. ...
October 7, 2010
The whole sports world is pulling for Carolina rookie quarterback Jimmy Clausen to succeed. He seems like a nice kid that has the potential to make an impact on the ...
August 30, 2010
NFL Football Betting—Best Performances Of The Preseason So Far NFL football betting players are waiting for Thursday to end the preseason, but we're not waiting any longer.  Here are five players ...
August 6, 2010
In a situation that bares some similarities to Brett Favre's seasons ago with Green Bay, the Buffalo Bills have decided to release Aaron Schobel. Schobel was the team's best pass ...
July 28, 2010
The sports betting speculation about head coaching jobs in the NFL begins as training camps open. Coaches like Cincinnati Bengals head coach Marvin Lewis and Dallas Cowboys head coach Wade ...
July 12, 2010
As an NFL betting player, I tend to think that it's tougher to come into the league as a defensive rookie than an offensive rookie, especially with rules that favor ...
July 7, 2010
  Even World Cup players are familiar with falls from grace-Diego Maradona instantly comes to mind.  However, Maradona managed to pick himself up and he was awarded the managing job ...
July 5, 2010
Despite early season struggles over the past couple of years, the San Diego Chargers have somehow managed to maintain their stranglehold on the National Football League's AFC West, clinching the ...