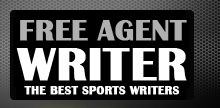 Yankee Addicts
Categories
Featured Sponsors
News published by
April 11, 2010
Bill Parcells has a history of drafting defense first. With the Miami Dolphins defense still in the rebuilding phase, it is unlikely that Parcells will favor an offensive "diva" such ...
April 10, 2010
This is my first mock draft I have published, and after waiting for much of free agency to play itself out, I thought it was time to give it a ...
January 10, 2010
Florida inside linebacker Brandon Spikes is an All-American, an incredible athlete, and a two-time National Champion. But some teams would not dream of taking him while others are drooling. Teams will ...