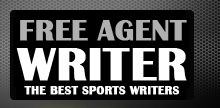 Yankee Addicts
Categories
Featured Sponsors
News published by
November 12, 2011
There are no bye week decisions to be made in Week 10.If your superstars are healthy, there is a strong chance you'll be able to put them in your lineup ...
September 25, 2011
Much of the focus during the start of the 2011 NFL season has been on the sudden increase in the passing attacks across the league.However, running back still remains the ...
August 13, 2011
Ndamukong Suh has been cited for excessive roughness before, but he gets a reprieve from me this time around.First off, the fact that Suh beats an initial double team to ...
July 30, 2011
Peyton Manning has signed a new five-year, $90 million contract with the Indianapolis Colts. The selfless quarterback took less money to allow his team some flexibility under the salary cap, ...
July 23, 2011
We could have football as early as next weekend according to a report from ESPN.John Clayton and Chris Mortensen contributed to a report that states: NFL owners and players have tentatively ...
May 1, 2011
2011 NFL Draft Results Says New York Jets Made Most of Limited Selections in NFL DraftThe New York Jets know free agency is going to hurt them and with only ...
May 1, 2011
2011 NFL Draft Grades Says New York Giants Overvalued Value in NFL Draft?There can be no argument against Prince Amukamara to the New York Giants. He was a top 10 ...
May 1, 2011
The 2011 NFL draft hit quick and disappeared even quicker. There are actually a number players that were not drafted in 2011 that have starting potential and they will definitely make ...
April 26, 2011
2011 NFL Mock Draft Says San Diego Chargers FInd Pass Rusher at No. 18 in NFL DraftThe San Diego Chargers were statistically at the top of the league in 2011, ...
April 26, 2011
2011 NFL Mock Draft Says New York Giants New York Giants Address Need For OL in NFL DraftThe New York Giants need to avoid another late season collapse this year ...