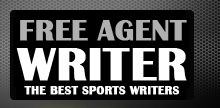 Yankee Addicts
Categories
Featured Sponsors
News published by
March 3, 2011
So maybe Alex Smith will be our quarterback in 2011 after all.  Does it reduce the chance we'll draft a quarterback with our first or second-round pick?Not in the slightest.  ...
February 17, 2011
——NFL Draft 2011: Cam Newton and 10 Draft Day Trades for the San Francisco 49ersWith the seventh pick in the 2011 NFL Draft, the 49ers select...Jim Harbaugh!Be honest. Would you ...
February 3, 2011
San Francisco 49ers QB Controversy: Carson Palmer, Blaine Gabbert and Who Else?In a perfect world, the 49ers would draft Andrew Luck and sign Michael Vick.  Every rookie needs a backup, ...
January 25, 2011
San Francisco 49ers: Power Ranking Jim Harbaugh and Every Coach in Franchise HistoryWhen I say San Francisco 49ers Head Coaches, who comes to mind? Bill Walsh?  I knew you'd say that.  ...