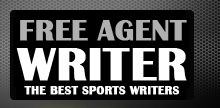 Yankee Addicts
Categories
Featured Sponsors
News published by
August 18, 2010
At various times this offseason, Minnesota Vikings Head Coach Brad Childress has tried to be stern with his team. Like any NFL coach, Childress is trying to keep control over his ...
August 17, 2010
The roller coaster ride that is the typical Brett Favre offseason appears to be over.After some of his teammates flew to Hattiesberg, Mississippi, to talk to the gunslinger, Favre is ...
August 13, 2010
The NFL is a league full of parity. With teams' talent levels not varying too much, unheralded squads are breaking into the postseason each year.It also means that continued success ...
July 30, 2010
Running back is a fickle position. The window for success is short, leaving them about four to five years to be on top of their game. With the passing of the guard ...
July 29, 2010
With Cincinnati signing Terrell Owens, the buzz around Bengals Training Camp is getting louder. Owens has been brought in to shore up a struggling Bengals pass offense and to take some ...