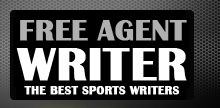 Yankee Addicts
Categories
Featured Sponsors
News published by
December 19, 2010
Week 15 already?  Man, this season is moving full speed now, and the division races are really heating up.  Last week combined with the Chargers win this past Thursday has ...
December 12, 2010
Yes, as much as I hate to say it, the Raiders stormed into San Diego and layed the wood to my Bolts.  The Raiders won every faze of the game ...
December 6, 2010
Is the season over for the Chargers?  Not quite yet, but they sure made the odds turn against them in a big way.  Going into this week's game against the ...
December 4, 2010
Before we move on to this week's games, let's take one last look back at the Chargers' victory over the Colts and what it means to San Diego and their ...
November 19, 2010
My Bolts had Week 10 off.  Even though they were on their bye week, they may have had their most productive week of the season. That's right, just sitting on their ...
October 30, 2010
For the third straight week, the Chargers let another winnable game slip through their hands.  I have no need to recap the Chargers game as I have already vented my ...
October 23, 2010
What positive things can I say, as a Chargers fan, about Week 6?  That's a good question.  Here is what I came up with: 1.  I am positive that the ...
October 18, 2010
For the second week in a row, the San Diego Chargers have inspired me to recap their game and summarize their problems before my normal piece that I write along ...
October 16, 2010
Normally, I do a wrap up of the Chargers previous game and then go into my picks.  This week will be a little different as I was inspired to write ...
October 9, 2010
The San Diego Chargers were pretty in pink last week as they destroyed the Arizona Cardinals in what was supposed to be a clash of last years Western Division champions.  ...