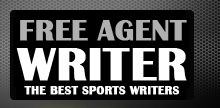 Yankee Addicts
Categories
Featured Sponsors
News published by
November 30, 2012
Thursday, November 29 was the night the tumultuous New Orleans Saints' 2012 football season finally declared itself finished. With each Drew Brees interception (there were five of them), it became ...
October 31, 2012
New Orleans, we have a problem. It's called the Saints defense. The unit ranks last in nearly every statistical category known to man. And despite Steve Spagnuolo's assertion that "Stats don't measure ...
August 25, 2012
Saturday night the Houston Texans and New Orleans Saints played what had to have been the most exciting first half of preseason football in 2012. The Saints won 34-27.Drew Brees finished ...
August 12, 2012
Every NFL season there are a number of players who missed most or all of the previous campaign who come back to do some seemingly unthinkable things the next year.Think ...
August 8, 2012
On Sunday evening in Canton, Ohio the New Orleans Saints defeated the Arizona Cardinals 17-10 in the Hall of Fame Game. The game was the first on the NFL preseason ...
July 18, 2012
When the New Orleans Saints brought both Shaun Rogers and Aubrayo Franklin in during the 2011 offseason, it was assumed the team would immediately become an elite run-stopping unit.It was ...
July 11, 2012
Mark Ingram didn't quite live up to the all the hype bestowed on him in his rookie campaign for the New Orleans Saints in 2011.After the team traded back into ...
April 21, 2011
As I detailed here yesterday, Santonio Holmes is going to be one of the most valuable free agents on the open market—assuming there is an NFL free agency period this offseason. The ...
April 8, 2011
Fullback Sean Payton loves to have flexibility at every position—even at fullback. Two years ago, the Saints gave their fans a head-scratcher when they released Mike Karney, only to sign Heath ...
February 11, 2011
That loud uproar you hear ringing in your ears is coming from Charlotte. Why? The Panthers still can't get over the fact Andrew Luck decided to go back to Stanford ...