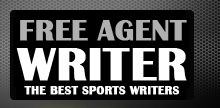 Yankee Addicts
Categories
Featured Sponsors
News published by
May 31, 2010
After the release of Donavan McNabb and Brain Westbrook by the Eagles, the whole division is going to experience a land slide shift in power. It only adds to that ...
May 31, 2010
In 2009, star Redskins HB Clinton Portis had a highly disappointing season. The star Redskins HB ran for barely over 400 yards. The Skins had a disaster 5-11 season, ...
May 31, 2010
The AFC West has had a lot of big moves over the offseason. The Raiders ended up releasing JaMarcus Russel, the Broncos released Brandon Marshall, but picked up Jamaal Williams, ...
May 7, 2010
Something has been REALLY annoying me over the years. Ray Lewis, who is tied for my favorite player, is an incredible leader, person and linebacker. He is the best ...
May 3, 2010
AAARGH! ARE YOU READY FOR SOME FOOTBALL! Unfortuanately in recent times, the Bucs haven't. Raheem Morris, the worst coach in the history of football, has released Antonio Bryant, Joey Galloway, Phillip ...