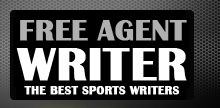 Yankee Addicts
Categories
Featured Sponsors
News published by
April 4, 2011
Oakland Raiders wide receiver Louis Murphy was arrested in Gainesville, Fla. on Sunday. Police tried to pull him over for noise pollution coming from his SUV, but Murphy refused and was ...
April 4, 2011
2010 Oakland Raider Defense Stats: Points given up per game: 23.2 (20th) Yards given up per game: 322.8 (11th) Pass Yards given up per game: 189.2 (2nd) Rushing Yards given up ...
April 1, 2011
OAKLAND RAIDER 2011  PROJECTED STARTING LINEUP:     #1 WR: Darrius Heyward-Bey If Chaz is healthy, it's Chaz's position to ...
March 31, 2011
The Oakland Raiders' greatest need is within the interior line. With the departure of Robert Gallery, the Raiders best offensive lineman and the subpar play of Left Guard Cooper Carlyle, the ...
February 14, 2011
The first step to a Super Bowl is winning your division. The Raiders dominated their division in 2010. The second step to Super Bowl? A defense that can dominate. Unfortunately the Raiders ...
January 20, 2011
Confidence is the Patriots head coach Bill Belichick going for it on fourth-and-two on his own 40-yard line in the middle of the second quarter. Or former Redskins coach Joe Gibbs ...
January 19, 2011
Raiders' owner Al Davis might be a lot of things, but a wimp, he's not. Many in the sports world scrutinize Davis with a fine-tooth comb; from his draft choices, to ...
December 7, 2010
"Patience is a virtue." Yet, it was an attribute lacking in the coaching arsenal of recently fired Denver Broncos coach Josh McDaniels. Let's see, he dumped Jay Cutler, who is having a ...
August 28, 2010
"All warfare is based on deception," Sun Tzu wrote in his classic military manifesto, "The Art Of War." And few people know that better than NFL coaches. If teams won games ...
August 27, 2010
1) New York Jets: Rex Ryan will flex, and Darrelle Revis will rejoin.   2) Minnesota Vikings: Pat and Kevin Williams and Jared Allen.   3) San Francisco 49ers: Mike Singletary has fashioned his ...