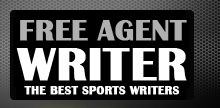 Yankee Addicts
Categories
Featured Sponsors
News published by
April 29, 2012
In the 2012 NFL draft, the Washington Redskins selected Robert Griffin out of Baylor with the second pick of the draft. Two-hundred-and-one picks later, the New York Jets selected ...
January 22, 2011
In 2008, Mike Shanahan had built a solid team with Jay Cutler at quarterback, Brandon Marshall at receiver, Peyton Hillis at running back, and Tony Scheffler at tight end.Not one ...
October 1, 2010
Jets announced the signing of the recently released defensive end, Trevor Pryce. He will fill the slot formerly held by Mike DeVito, who filled in following the departure of Marques Douglas. Douglas himself ...
May 11, 2010
The offseason is pretty much over. Its time for the dust to settle, and see how the rosters will form into. Camp is about to start. With any camp, there ...
April 30, 2010
The Jets are now going to move bust Vernon Gholston to the defensive line. He will most likely be Shaun Ellis's backup, or possibly Marques Douglas's replacement. Gholston, the Jets's first ...
April 29, 2010
You're probably saying: Who? Lance Laury? Never heard of him. He's an inside linebacker the Jets signed from Seattle whose strength is on special teams. So why is this such a ...
April 28, 2010
It's official—the draft is over. Finally, the hectic offseason can settle down. We now have a chance to reflect on the Jet's offseason as a whole. They have made some ...
April 25, 2010
The Jets are cleaning out some roster space. Following the draft, the Jets announced that they are cutting Pro Bowl guard Alan Faneca and have traded Leon Washington to the ...
April 17, 2010
With the upcoming draft, everyone focuses on the Eric Berrys and Ndamukong Suh. Well, there are good players later in the draft. Plenty of late rounders have turned out ...
April 7, 2010
With the Jets' first off season move, they signed the Dallas kicker Nick Folk. This was a puzzling move. Why did the Jets not re-sign Feely? Well, a month or two later, ...