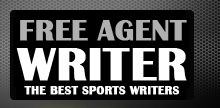 Yankee Addicts
Categories
Featured Sponsors
News published by
April 25, 2012
Former NFL star Deion Sanders isn't walking away from a Monday altercation with his estranged wife completely scot-free. According to a report from the Associated Press, Sanders has been charged with misdemeanor ...
March 14, 2012
The Indianapolis Colts chose not to welcome back Peyton Manning, but they are welcoming back one of Manning's favorite wide receivers.According to ESPN's Adam Schefter, the Colts have re-signed veteran wide receiver ...
November 12, 2011
Some fantasy owners have Aaron Rodgers, and some fantasy owners are forced to mix and match using a selection of QBs with a fraction of Rodgers' skill.That's just how it ...
November 12, 2011
I'm typically not one to get too excited about road teams when I sit down to make my picks week in and week out. Beating the spread on the road ...
July 9, 2011
Believe it or not, the NFL lockout is not long for this world. I know, I know. It's probably getting harder and harder to believe with each passing day, and ...
May 1, 2011
Grading St. Louis' Selection of Gregory Salas in 2011 NFL DraftIn a perfect world, Julio Jones would have been holding up a St. Louis Rams jersey on Thursday night. But ...
May 1, 2011
Grading Seattle's Pick of Kris Durham in 2011 NFL DraftThe Seattle Seahawks have some pretty big dudes at the wide receiver position, but they probably could have used a draft ...
May 1, 2011
Grading San Diego's Selection of Jordan Todman in 2011 NFL DraftRunning back was not high up on the list of priorities for the San Diego Chargers heading into the 2011 ...
May 1, 2011
Grading Chicago's Selection of Nathan Enderle in 2011 NFL DraftJudging by the way the Chicago Bears drafted in 2011 NFL Draft, they were definitely reacting to the wakeup call they ...
April 26, 2011
2011 NFL Mock Draft Once Again Has the Seahawks Locking Up Locker  Aside from the one time where I lost my mind and had Cam Newton falling all the way ...