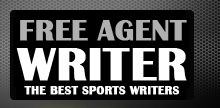 Yankee Addicts
Categories
Featured Sponsors
News published by
March 12, 2010
Yes, yes, we all know the Brandon Marshall story by now. We know about the Donovan McNabb rumors and the Derek Anderson speculation. We all know that the Seahawks are ...
February 23, 2010
It has been called by many names: Posion pill , Ruskell's blunder , and my new favorite "Hutch-Gate." Of course it is still a sour subject in Seattle, that being the ...
February 13, 2010
The Seahawks again went through another horrible season, only this time Matt Hasselbeck wasn't watching a Seneca Wallace-led Seahawks team slump to a 4-12 record. Unfortunately for Hasselbeck, he was the ...