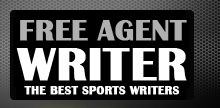 Yankee Addicts
Categories
Featured Sponsors
News published by
April 1, 2010
According to Adam Schefter's Twitter account, Pittsburgh has reportedly handed golden boy quarterback Ben Roethlisberger his final paycheck as a Steeler. After a painfully long deliberation process, the Rooney family has ...
March 23, 2010
Houston is coming off of its best record (9-7) since its inception, and all eyes are on a playoff berth for the 2010 season. In an effort to maintain the ...
March 11, 2010
Now that the combine is behind us, it's time to look forward to the draft and determine who is riding a good workout to an early berth and who is ...
March 9, 2010
The NFL Combine is behind us, and for many of the young players who put their athleticism on display, draft stocks are fluctuating. For some, their performance in Indianapolis has garnered ...
March 7, 2010
With the league's Final Eight Rule in effect and an uncapped year upon us, the 2010 free agency period will take the first hit. Due to the number of tenders available ...
March 6, 2010
This year's uncapped free agency period is already off to a roll and it's not over yet. Chicago and Detroit have made the biggest splashes so far, and the New ...
March 3, 2010
Going into the offseason, the clear consensus was that Oklahoma's Jermaine Gresham was the best tight end going into the draft. Now that the Senior Bowl and the NFL Scouting ...
March 3, 2010
Every year, it's up to countless scouts and regional beat writers to come up with an extensive list of pros and cons for each player at the combine and, at ...
March 3, 2010
With the combine over and done with, it's time to take a second, and third, look at some of the prospects that scouts will have their eye on in April. ...
March 2, 2010
The 2010 NFL combine is upon us again and, as usual, all eyes are on the big names and the touted reputations. Unfortunately, five of the top quarterbacks going into ...