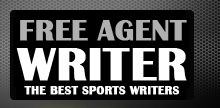 Yankee Addicts
Categories
Featured Sponsors
News published by
August 8, 2012
The Bears struggled towards the end of last season. Much of those struggles lead back to the quarterback position. With the loss of Jay Cutler after the win against San ...
April 9, 2011
The Chicago Bears are coming off a nice season that ended in heartbreak. They lost the NFC Championship at home to their rival Green Bay Packers.Still, the Bears finished better ...
January 25, 2011
Bears quarterback Jay Cutler received some undeserved criticism and bashing after the Bears' loss in the NFC Championship to the Green Bay Packers. In fact, everyone who offered their own ...
January 22, 2011
Sunday's NFC Championship is expected to be one of, if not the biggest game played in Chicago. A trip to Super Bowl XLV in Dallas is on the ...
November 28, 2010
The Chicago Bears have heard it all this season. "Their schedule is easy," "They will eventually fall out of the race," "They have lucky wins" and "Play a good team ...
November 16, 2010
After a big win Sunday against the Minnesota Vikings, the Chicago Bears now find themselves atop the NFC North again. They are tied with the Green Bay Packers for first ...
November 13, 2010
As the Chicago Bears (5-3) come off a big win against Buffalo last week, they have arguably their biggest game since week three of this season when they defeated Green ...
November 7, 2010
Fresh off of their bye week the Chicago Bears look to get back on track when they take on the Buffalo Bills in Toronto. The Bears suffered two disappointing losses at home ...
October 16, 2010
The Chicago Bears got back on track last week, with a 23-6 win over the dismal Carolina Panthers. It wasn't pretty, but in the NFL, a win is a win. While ...
October 11, 2010
Without their leader, Jay Cutler, the Chicago Bears went into a Week 5 matchup against the Carolina Panthers hoping they could pull out a win.Many fans didn't know if the ...