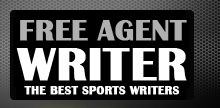 Yankee Addicts
Categories
Featured Sponsors
News published by
January 2, 2013
Already a member of the College Football Hall of Fame and the Pro Football Hall of Fame, former offensive lineman Ron Yary has joined another elite group of players.During halftime ...
January 9, 2011
Since 2000, EA Sports has been putting players on the cover of the Madden video games...and since 2000, players have been haunted by what has been called the "Madden Curse." Since ...
April 7, 2010
Perhaps Vikings head coach Brad Childress knows something we don't know. With Childress' protege Donovan McNabb on the trade block in Philadelphia, the Vikings seemed to be front runners in the ...
April 7, 2010
As a Minnesota Vikings fan, I never thought I'd see the day I'd be writing an article like this. After the ESPN classic-bound 2009 NFC Championship game between my Minnesota Vikings ...
March 15, 2010
After wining and dining with Vikings GM, Rick Speilman, and touring Winter Park in Eden Prairie, free agent RB LaDainian Tomlinson chose to sign with the loser of the AFC ...
March 2, 2010
Succumbing to popular demand, the NFL's Competition Committee will propose a plan to change the rules of overtime in the playoffs. The plan would allow both NFL teams to have a ...
February 23, 2010
Everything is bigger in Texas. And this year, when Super Bowl XLV will be held in the mega-plex of Cowboys Stadium in Arlington, TX. With a record capacity of 105,121 last ...