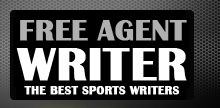 Yankee Addicts
Categories
Featured Sponsors
January 2010 Archive
January 10, 2010
The first article I ever wrote for Bleacher Report that got substantial notice argued Tony Romo was the most overrated player in the National Football League. While judged at ...
January 10, 2010
In reality, what have they done to you that is so awful? Have they forgotten to get you a Christmas gift every year? Have they taken away jobs from your friends ...
January 10, 2010
Well, I guess the old dog knows where he stands now. Somehow I think Brett Favre shouldn't have expected anything less. It seems abominable that the Associated Press would give ...
January 10, 2010
I am sure NBC's stellar broadcast crew hoped for a better game to close out Chris Collinsworth's inaugural season in the catbird seat. They would have loved a nail-biter, a ...
January 10, 2010
After Saturday's 24-14 loss to the New York Jets in the opening game of the 2010 playoffs, it's a sign of relief Cincinnati Bengals kicker Shayne Graham never received the ...
January 10, 2010
I know a lot has been said about the Cardinals. Many say they have no business being in the playoffs, the division they play in is weak, and they should be ...
January 10, 2010
According to ESPN.com, sources close to Kurt Warner claim he is seriously considering retirement following the completion of this year's playoffs. Warner's Arizona Cardinals take to the field later today ...
January 10, 2010
It was a rough and disappointing end to the season for the Eagles. No Eagles fan wants to face the fact that we lost to the Cowboys three times and ...
January 10, 2010
With a win at Tampa Bay last week, the Atlanta Falcons accomplished what they had been unable to do in franchise history: they posted back-to-back seasons of records greater than ...
January 10, 2010
How much money can a win save you?  For the Cleveland Browns, the week 17 victory over the Jacksonville Jaguars saved them over $3.5 million in guaranteed money because they moved ...