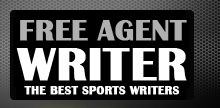 Yankee Addicts
Categories
Featured Sponsors
March 2010 Archive
March 31, 2010
This year, after the combine was over and mock drafts began to show Bruce Campbell going to the Raiders, the fan base gave out a collective groan. "Not another combine stand ...
March 31, 2010
Numbers Never Lie – Except When They Do   A rebuttal to http://sportsillustrated.cnn.com/2010/writers/kerry_byrne/03/22/tim.tebow/index.html   In an article posted on SI.com by Kerry Byrne the argument appears to be that passing numbers in college prove ...
March 31, 2010
Ever since Mark Sanchez called Brandon Marshall to wish him a happy birthday, the rumors of the Jets' interest in Marshall seem to be heating up again. There's ...
March 31, 2010
Len Pasquarelli, ESPN—While he notes that Suh has the makeup to be a special talent, Pasquarelli cites past drafts as enough reason to at least consider taking a defensive tackle ...
March 31, 2010
On April 22nd when the 2010 NFL Draft commences in prime-time, league commissioner Roger Goodell will step to the podium to announce this years picks. Fans of some teams ...
March 31, 2010
The Donovan McNabb sweepstakes have really been the high point in a somewhat dismal offseason, which is sad considering no deal has even been done. Due to the lack of a ...
March 31, 2010
According to Brad Biggs, the buzz around Bears circles is that GM Jerry Angelo may be interested in moving up in the NFL draft. That is something that Angelo has ...
March 31, 2010
As a diehard Charger fan, I had lots of allies to choose from:  Rivers, Jackson, Gates, Sproles. But honestly, the biggest contributor to their success has been Josh McDaniels. Speaking ...
March 31, 2010
What started out as a pretty nice offseason for the Pittsburgh Steelers has turned into another media relations nightmare. The franchise was coming off a busier then usual free agency period, ...
March 31, 2010
Putting his recent drinking and driving troubles aside, Ronnie Brown enters the 2010 season as a major question mark. He's coming off of a Lisfranc fracture and a surgery that ...