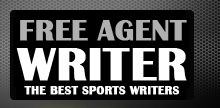 Yankee Addicts
Categories
Featured Sponsors
April 2010 Archive
April 30, 2010
When Scott Pioli took over as General Manager of the Kansas City Chiefs in January 2009, he said the new Chiefs teams were going to consist of fast, smart, strong, ...
April 30, 2010
OK. It's time to clear the air. Unless you have been living under a rock for the last four days, you have surely heard about the "question." What was it, you ask? "Was your ...
April 30, 2010
Those of you who have read my pieces over the last 25 months may have noticed my affection for the movie, The Good, the Bad, and the Ugly . It ...
April 30, 2010
One of the more disturbing things about our contemporary culture is the lengths that we will go to defend the indefensible. Jeff Ireland's question to Dez Bryant concerning his mother was ...
April 30, 2010
I have put together a list of rankings uncovering the AFC quarterbacks in honor of the Jason Campbell transition to Oakland, the Delhomme transition to Cleveland, the potential in Matt ...
April 30, 2010
Part One Did Al Davis give in to pressure when he drafted Eldridge Dickey back in the day, and did he make history by doing so? A historian seems to believe that ...
April 30, 2010
Now let me clarify a few things before we move on. First, I am a Denver Broncos fan. Second, I support McDaniels in every decision he has made. Third, I ...
April 30, 2010
There is a famous moment in Star Wars (the original) where Governor Tarkin turns to Vader and says, "You're sure the homing beacon is secure aboard their ship? I'm ...
April 30, 2010
Today marked the first day of the Jets' rookie mini camp. The biggest story of the day, besides the Santonio Holmes incident , was running back Joe McKnight ...
April 30, 2010
The Saints are coming off of a Super Bowl, but are they the team to beat this year? With the draft behind us, it's time to evaluate the standings of the ...