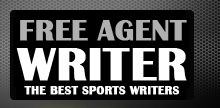 Yankee Addicts
Categories
Featured Sponsors
April 2010 Archive
April 30, 2010
Beaten and broken, Brett Favre limped off the Superdome field after several vicious hits by New Orleans' rabid front seven. Bobby McCray came in low for a hit on Favre that ...
April 30, 2010
It wouldn't be the NFL offseason without a healthy helping of Brett Favre's "Will he or won't he retire?" career drama.  Today, the NFL obliged. ESPN broke the news Friday morning that ...
April 30, 2010
We've had a week now to absorb the draft. As far as the Vikings go I can't say that I was terribly impressed. I had no issue with trading out ...
April 30, 2010
Every sport has its premier event.  For reasons that need no explanation, the biggest sports seem to have the biggest events: the NFL has its Super Bowl, baseball has its ...
April 30, 2010
According to a CBS report, Santonio Holmes has been kicked off of a Pittsburgh flight because of an argument over an iPod. That's right, an iPod. The new New York ...
April 30, 2010
The Jets are now going to move bust Vernon Gholston to the defensive line. He will most likely be Shaun Ellis's backup, or possibly Marques Douglas's replacement. Gholston, the Jets's first ...
April 30, 2010
As reported on WPXI.com, former Pittsburgh Steeler Santonio Holmes was escorted off of a plane at Pittsburgh International Airport. Though he was not arrested, investigators state that Holmes was being a "disruptive ...
April 30, 2010
The Philadelphia Eagles gave a huge vote of confidence to Kevin Kolb when they decided to trade Donovan McNabb to their division rivals, the Washington Redskins.   Eagles management made a statement ...
April 30, 2010
The Denver Broncos made arguably the most surprising pick in last week's NFL draft, taking Florida quarterback Tim Tebow with the 25th pick in the first round. Was Tebow worthy ...
April 30, 2010
I didn't see the Blue/White Game, but according to several reports, no one's talking up the prospects for the 2010 team after seeing the first really public performance of the ...