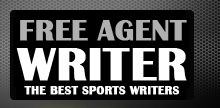 Yankee Addicts
Categories
Featured Sponsors
December 2010 Archive
December 31, 2010
As the 2010 calender year comes to a close, the Cleveland Browns as like many teams who need some work in the offseason both via free agency and in the ...
December 31, 2010
My No. 1 team (the Atlanta Falcons) fell to another top five team, and the New England Patriots take their rightful spot atop the power rankings. There's only ...
December 31, 2010
The big news for the Seattle Seahawks this week is that, due to injury, Matt Hasselbeck is likely to sit in their climactic end to the regular season in favor ...
December 31, 2010
Favorite Movie: The IncrediblesFavorite Song: All Eyez On MeFavorite TV Show: American IdolWhat do these generic questions have to do with the biggest showboats in football?Each player on this list agrees with ...
December 31, 2010
I think the Kansas City Chiefs should play this game like any other, play every starter and not let up for one minute until it's completely out of reach.  That, of course, ...
December 31, 2010
This year, the Raiders were expecting playoffs come January. The team made great improvements in the offseason, the rest of the division was looking vulnerable and they had their easiest ...
December 31, 2010
The Oakland Raiders have but one thing to play for while in Kansas City for their Week 17 showdown. They have a chance to finish at .500 for the first ...
December 31, 2010
What is more disgusting: The fact that the Seahawks still have a shot at making the postseason or the fact that more than half of the fans in a recent ...
December 31, 2010
Before we immerse ourselves in speculation with the upcoming draft, we must first look at the needs of each team. The draft order is not established, free agency has not ...
December 31, 2010
The New York Giants have been in a late-season funk and now are in danger of missing the playoffs. The defense has been the problem during that funk, allowing 38 ...