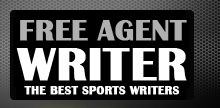 Yankee Addicts
Categories
Featured Sponsors
March 2011 Archive
March 31, 2011
Impending free agent quarterback Chad Pennington experienced yet another tough break this week, as he suffered a torn ACL in a pickup basketball game in Miami. Dr. James Andrews will ...
March 31, 2011
Former NFL coach Joe Gibbs has experienced an NFL lockout. Gibbs had a coaching career with the Washington Redskins. As a fan, he says, "There's too much at stake…" In a ...
March 31, 2011
NFL Draft 2011 will see the Charges address glaring defensive end needs The San Diego Chargers are far from a perfect team. For the first time in as long as ...
March 31, 2011
The Cowboys trade down one slot too far, miss out on Tyron Smith The Dallas Cowboys will not trade down again, but they miss out on the guy they wanted. With ...
March 31, 2011
Arkansas Star Quarterback A Major Source of ControversyPeter King noted this week that Ryan Mallett is starting to rove into the dangerous field of "baggage.""Some teams, including one with a ...
March 31, 2011
The Lions Choose To Keep Matthew Stafford Healthy, Draft Tyron Smith The Lions know Matthew Stafford has the ability to get the team to the playoffs, now they just have to keep him healthy ...
March 31, 2011
Can Washington QB Climb As High To 10th?If you don't know by know (and you really should) the NFL Draft isn't necessarily a ranking of "best players" to come out ...
March 31, 2011
NFL Draft 2011 Miami Dolphins Hoping Veteran QB Becomes Available The Miami Dolphins have several needs heading into the draft. With the No. 15 overall selection, they have a chance ...
March 31, 2011
Clemson Tigers Star No Longer Top Defensive Lineman?If you were taking bets on who would emerge the top pick in the 2011 NFL Draft was, Da'Quan Bowers might have won ...
March 31, 2011
The Vikings Take J.J. Watt With The 12th Pick In The Draft The Minnesota Vikings, much like the Washington Redskins, are stuck in a bit of a No Man's Land in ...