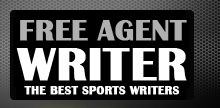 Yankee Addicts
Categories
Featured Sponsors
April 2011 Archive
April 30, 2011
Jeremy Beal, standing at 6'3" and tipping the scales at 267 pounds, compiled the sack numbers at DE during his four year career to make NFL teams lick their chops.  ...
April 30, 2011
The 2011 NFL Draft will one day go down in history as one of the most unpredictable drafts of all-time.From the fifth overall pick on, it seemed every expert grew ...
April 30, 2011
Eric Hagg is a classic case of a player who doesn't wow in drills, but shows flashes of brilliance on the field. Unfortunately for Hagg, a poor showing at the ...
April 30, 2011
With the exception of John Moffitt in the third round, every pick made by the Seattle Seahawks in the draft can be considered a reach.  Just how extreme is a ...
April 30, 2011
So the smoke has cleared and the dust has settled on another NFL Draft. It's been full of shocks and surprises as one comes to expect from the draft, the ...
April 30, 2011
The Minnesota Vikings started their final day of the 2011 NFL Draft by selecting Iowa defensive lineman Christian Ballard, a versatile inside-outside player who had second round grades from most ...
April 30, 2011
Well, the draft is finally over.  It was an intense three days filled with speculation and surprises, but now the season must go on. The Green Bay Packers came into ...
April 30, 2011
The Eagles on Day 3 made eight picks, giving them 11 overall in the 2011 NFL Draft.Most of these picks were for depth, but a few could end up being ...
April 30, 2011
NFL Draft Grades 2011: Green Bay Packers Final Report CardIt's been an interesting draft for the Green Bay Packers, who came into this draft with no glaring holes on their ...
April 30, 2011
Lawrence Guy is a bulky, athletic defensive tackle with all the potential in the world. Although his decision to leave Arizona State after his junior year was questioned by some, others ...