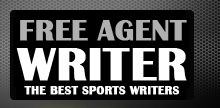 Yankee Addicts
Categories
Featured Sponsors
September 2011 Archive
September 25, 2011
Aside from Antonio Gates, the San Diego Chargers may be without the services of wide receiver Malcom Floyd, defensive end Corey Liuget and safety Bob Sanders.All three did not participate ...
September 25, 2011
Arizona Cardinals vs. Seattle Seahawks Kickoff Time: 1:15 PST Seattle, WA After two pitiful performances, the Seahawks enter Week 3 still searching for their first win of the season. Their ...
September 24, 2011
Miles Austin will not be on the field for the Cowboys in Monday night's contest against the Washington Redskins, according to the Dallas Morning News.This is a big blow to ...
September 24, 2011
Michael Vick is going to play on Sunday. This tweet is one of many that is basically saying in no uncertain terms that Vick will be good to go against ...
September 24, 2011
I find wide receiver is consistently the hardest choice to make in a fantasy lineup. Production from wide receivers is just so inconsistent. The following are three guys who certainly ...
September 24, 2011
Antonio Gates is currently listed as questionable, which is a huge blow to many fantasy owners.While a tight end, one of the least productive positions on a fantasy team, Gates ...
September 24, 2011
The first two weeks of the NFL season has given us no shortage of offense. We've seen countless amounts of quarterbacks have 300-yard games, or multiple touchdown passes.Is this a ...
September 24, 2011
When the football world heard about the unfortunate, untimely death of former Baltimore Ravens tackle Orlando Brown on Sept. 23, the first thought that came to the minds of millions ...
September 24, 2011
If someone had told you that the Colts would start the season 0-2, you'd probably think that person was crazy. Maybe not so much if that person had also mentioned ...
September 24, 2011
There is one word that strikes fear into the hearts of every fantasy owner. Its mere mention can derail a promising week and essentially cost you a win. That word ...