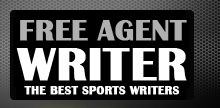 Yankee Addicts
Categories
Featured Sponsors
April 2012 Archive
April 29, 2012
The Indianapolis Colts did what everyone expected them to do with the No. 1 overall pick, selecting Andrew Luck. But it's what they did on Day 2 that could be ...
April 25, 2012
Kellen Moore is a very productive quarterback out of Boise State University.  He was a great college quarterback playing in the Boise State system.  Moore seems to be a highly ...
April 25, 2012
Felix Jones was much talked about in the preseason as possibly being ready for a breakout season, but in the end, he continued to have injury problems. Then ...
April 25, 2012
The 2013 NFL draft is going to be loaded with QB talent. And like most drafts, the success or failures of those QBs will define that draft. In my full first-round ...
April 25, 2012
Former NFL star Deion Sanders isn't walking away from a Monday altercation with his estranged wife completely scot-free. According to a report from the Associated Press, Sanders has been charged with misdemeanor ...
April 25, 2012
The NFL draft has been looking more and more like the real estate market of late. Teams are jockeying for position, but no one is willing to take a chance ...
April 25, 2012
They all get talked about. They all get picked on, treated like cattle at the NFL combine and re-evaluted at the various pro days. But when it comes time to ...
April 25, 2012
Add another name to the list of potential players for the Buffalo Bills to consider with the tenth overall pick in upcoming NFL draft: Mark Barron, a standout safety from ...
April 25, 2012
Player Name: B.J. Cunningham  School: Michigan State  Position: WR  College football's stars of yesterday are ready to take the leap into the world of professional football. While expectations run the gamut, fans ...
April 25, 2012
Greetings, NFL draft fans!With the 2012 NFL Draft only days away, our lead writers have been working diligently, analyzing every angle for every team and every prospect, and they're going a ...