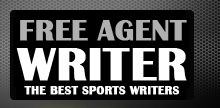 Yankee Addicts
Categories
Featured Sponsors
May 2012 Archive
May 30, 2012
Organized team activities, also known as OTAs, are a chance for rookies to impress fans and coaches in their first real activity with the team.Unfortunately, front-seven players won't get a ...
May 30, 2012
The best teams in the NFL use the draft to replenish and retool themselves for another championship run. Much of that involves finding some offensive and defensive weapons that can ...
May 30, 2012
These past few months have been quite an interesting time foe the New York Jets. Between signing Tim Tebow, extending Mark Sanchez and drafting Quinton Coples, the Jets are a ...
May 30, 2012
The most surprising move of the Bears' offseason was their decision to not address the offensive line in free agency or the draft. Putting faith in the players on the roster could ...
May 30, 2012
In 2009, a running back out of Tennessee joined the Houston Texans as an undrafted free agent. There were no expectations of him, no accomplishments that he needed to fulfill, ...
May 30, 2012
While most undrafted free agents will never see a true game on Sundays, there are still a select few that will overcome their obstacles and make an impact in the ...
May 30, 2012
Jets head coach Rex Ryan has yet to rule out a return for safety Jim Leonhard, and rightly so, because the team has not yet found his true replacement.Sure, rookie ...
May 30, 2012
Some NFL players attract attention as if they were some sort of magnet.Entering the 2012 NFL training camps, you don't have to be a genius to know which players will ...
May 30, 2012
Which of the following are "Phase Three" team activities for an NFL football team: A) Lifting weights after practice and conditioning drills B) Working on special teams following offensive and ...
May 30, 2012
"That's kinda like my old man told me one time, Lynn. The only thing better than a crawfish dinner, is five crawfish dinners."—Coach Red Beaulieu, The Waterboy (1998)  Colt McCoy will ...