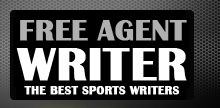 Yankee Addicts
Categories
Featured Sponsors
May 2012 Archive
May 30, 2012
New England Patriots head coach Bill Belichick knows how get the most out of players. Each year, certain Patriots rise to the occasion and exceed expectations.In 2007, Belichick helped put ...
May 30, 2012
The Carolina Panthers are holding OTAs (a fancy acronym for "Organized Team Activities") as we speak. By definition, these gatherings can be anything from an organized training session or ...
May 30, 2012
Second seasons in the NFL can prove to be huge breakout years for budding stars. Some rookies already made a name for themselves in 2011, while others had to bide their ...
May 30, 2012
Even in the wake of BountyGate and the suspensions that resulted from that scandal, the New Orleans Saints still have the responsibility of assembling a football team for 2012. Like ...
May 30, 2012
Twitter was all abuzz this afternoon with the word that undrafted free-agent Dwight Jones had quit the Houston Texans.Evan Silva of ProFootball Talk broke the 'story' speculating that it might ...
May 30, 2012
When you're a die hard fan of a team, you want every story from every angle with every opinion on what will happen next.Although ESPN may seem like the ...
May 30, 2012
It's interesting to imagine the New Orleans Saints without the bounty scandal, and without any penalties or suspensions handed down.A nice, quiet offseason where the NFL still latched on to ...
May 30, 2012
Based on talent alone, the Philadelphia Eagles are one of the elite teams in the NFL.Talent alone doesn't win football games. The Eagles learned that the hard way in 2011, ...
May 30, 2012
St. Louis Rams head coach Jeff Fisher believes rookie cornerback Janoris Jenkins will start along Cortland Finnegan this upcoming season, according to Tom Ackerman of KMOX.Fisher praised Jenkins' instinct for ...
May 30, 2012
Are the Philadelphia Eagles this year's "Dream Team?"Many think their defensive line is close, as it's much improved from last year.The Eagles made no secrets about improving their line in ...