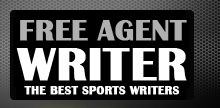 Yankee Addicts
Categories
Featured Sponsors
April 2013 Archive
April 30, 2013
Former Jacksonville Jaguars first-round pick Justin Blackmon has been suspended four games in the 2013 season, according to ESPN's Adam Schefter.He is suspended for violating Policy and Program for Substances ...
April 30, 2013
The Jacksonville Jaguars continued adding to a burgeoning offensive core by drafting tackle Luke Joeckel No. 2 overall in the 2013 NFL draft, but they reportedly will be without their ...
April 30, 2013
Teams and fanbases rightfully expect to improve during the NFL draft.Otherwise, why even bother going through such an incredibly deep evaluation, right? And the impact of making correct selections has proven ...
April 30, 2013
Because the internet is a wonderful place that gives yet rarely asks for anything in return, we now have a full first-round collection of draft picks as cartoons. There is something ...
April 30, 2013
Sometimes it can be hard for rookies and veterans to work alongside each other in the NFL...but that wasn't the case for these guys.With the 2013 NFL Draft under way ...
April 30, 2013
With their first of two fifth-round picks in last week's draft, the Washington Redskins selected Florida State running back Chris Thompson to complement starter Alfred Morris by way of speed, burst and ...
April 30, 2013
The 2013 NFL draft is in the books and the Minnesota Vikings have to be thrilled with how things played out for them, making three first-round selections for the first ...
April 30, 2013
2012 was a good year for the Washington Redskins.  They finally found a franchise quarterback, a late-round running back gem and won their division.  Over the past five years or ...
April 30, 2013
If a quarterback does not win the Offensive Rookie of the Year award in 2013—and the top candidates for the honor won't be signal callers—it will mark just the fourth ...
April 30, 2013
The Philadelphia Eagles completed their first draft under Chip Kelly, adding eight players, plus a handful more undrafted free agents. Kelly went with offensive and defensive linemen in two of ...