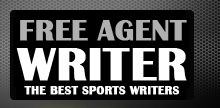 Yankee Addicts
Categories
Featured Sponsors
January 2015 Archive
January 31, 2015
In preparation for Super Bowl XLIX, Key & Peele aired a Super Bowl special on Friday night. This might have been one of their better sketches.Keegan-Michael Key and Jordan Peele dressed as Seattle ...
January 28, 2015
The Baltimore Ravens could be in dire need of another wide receiver. There's a possibility that one or both of Steve Smith Sr. and Torrey Smith won't be on the ...
January 28, 2015
Offseason mistakes can make or break NFL teams that are constantly searching for a successful formula in building their rosters. The Minnesota Vikings are certainly no exception. Opportunities for blunders exist ...
January 28, 2015
There is a lot riding on this offseason for the Detroit Lions. The brain trust of general manager Martin Mayhew, head coach Jim Caldwell and team president Tom Lewand (pictured ...
January 28, 2015
Building an excellent roster requires wise decision-making in the early rounds, but the best teams also fortify the depth by finding late-round gems.  If the Rams want to compete in 2015 ...
January 28, 2015
The Atlanta Falcons need someone who can either learn to be a No. 2 wide receiver or a starting tight end who can play in the slot and stretch the ...
January 28, 2015
This weekend in Phoenix, we'll find out whether or not former Dallas Cowboys defensive end Charles Haley has finally made the Pro Football Hall of Fame cut. But aside from ...
January 28, 2015
The Seattle Seahawks' eclectic mix of outspoken personalities comprises a key component of their unique makeup. It comes as little surprise that one of their articulate stars, defensive end Michael ...
January 28, 2015
The San Francisco 49ers got production out of their mid-round picks from the 2014 draft. General manager Trent Baalke did an excellent job at finding talent in Rounds 3-5 last year, ...
January 27, 2015
The rookie-wage scale in the NFL has placed an increased emphasis on teams to find starters in the draft. Without a first-round pick, the Washington Redskins can chalk up their ...