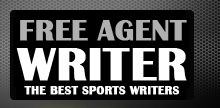 Yankee Addicts
Categories
Featured Sponsors
January 2015 Archive
January 27, 2015
The Super Bowl is many things—the biggest game of America's most popular sport, a global television event, a pop culture spectacle, a billion dollar enterprise and the list can go ...
January 27, 2015
Super Bowl XLIX promises to be an exciting clash between the defending champion Seattle Seahawks and New England Patriots. Which underlying matchups should fans pay attention to? Who will come out ...
January 27, 2015
The 2-14 Tampa Bay Buccaneers might be looking to cut some dead weight this offseason, but there may be some players at the end of their contracts who deserve a ...
January 27, 2015
Renegade folk hero Marshawn Lynch struck another blow for the little guy on the first day of Super Bowl media availability. As Fox Sports's Alex Marvez tweeted, the Seattle Seahawks' star ...
January 27, 2015
The New York Jets are a team in rebuilding mode after reshaping the front office earlier this offseason. Re-signing a linebacker in his 30s is usually not a good idea for ...
January 27, 2015
PHOENIX — The first noticeable difference with this Super Bowl media day from the approximately 20 others that I've covered was the abundance of potty jokes. And ball jokes. And ...
January 27, 2015
The Carolina Panthers' No. 1 priority during the offseason will be to upgrade the left tackle position and protect Cam Newton's blind side. The organization already has its eye on ...
January 27, 2015
Former NFL stars Brett Favre, Terrell Owens, Emmitt Smith, Larry Allen and Franco Harris are no longer playing football for a living, so they need to find a way to occupy ...
January 27, 2015
The longest week of the year is over, but the wait for Super Bowl XLIX remains far from complete. Although the New England Patriots and Seattle Seahawks don't top the NFL ...
January 27, 2015
Last February, the Seattle Seahawks won the Super Bowl by trouncing what was thought to be an offensively superior team, the Denver Broncos, as an underdog. This year, Seattle is again ...