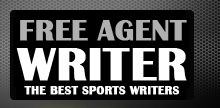 Yankee Addicts
Categories
Featured Sponsors
March 2015 Archive
March 31, 2015
While only 32 NFL general managers prepare for the upcoming 2015 NFL season, there are millions of fantasy football GMs doing the same.  Which quarterbacks on new teams should be targeted? ...
March 31, 2015
The Oakland Raiders were 30th in the league in sacks during the 2014 season, but they will try to improve on that disappointing total in 2015 without the services of ...
March 31, 2015
Rumors continue to swirl, fans speculate, and prospects anxiously await the 2015 NFL draft. Adam Lefkoe and Bleacher Report NFL analyst Chris Simms are here to shed some light on ...
March 31, 2015
Although the common belief is that Houston Texans star J.J. Watt can do anything, an appearance on New Girl exposed at least one serious deficiency.He can't sing.In a behind-the-scenes look ...
March 31, 2015
Veteran quarterback Matt Schaub's days as an NFL starter may be numbered, but he figures to be a solid backup for the Baltimore Ravens, who agreed to terms with the ...
March 31, 2015
It's so close you can almost taste it. The start of the 2015 NFL draft is less than a month away, which means scouts and general managers everywhere are doing ...
March 31, 2015
While the Green Bay Packers eliminated an immediate need at nose tackle by re-signing Letroy Guion and B.J. Raji on one-year deals, it's probably fair to question the nearly $7 ...
March 31, 2015
The Philadelphia Eagles added a veteran to their rather youthful receiver corps on Tuesday, agreeing to terms with free agent Miles Austin.The Eagles announced the move, confirming it's a one-year ...
March 31, 2015
Even without defense on the field, receiver Christian Green found himself a bit shaken up at Florida State's pro day on Tuesday.And he can thank Jameis Winston for that.One of ...
March 31, 2015
The Cleveland Browns signed wide receivers Dwayne Bowe and Brian Hartline this offseason. Will these moves help the Browns passing game? Should they add another wide receiver? Watch as Adam Lefkoe and ...