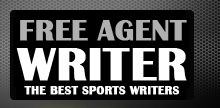 Yankee Addicts
Categories
Featured Sponsors
May 2015 Archive
May 29, 2015
The New York Giants completed the first week of their annual OTAs, a week that saw them complete three workouts in which offense vs. defense was permitted, though, with no ...
May 29, 2015
Philadelphia Eagles defensive back Byron Maxwell spent the past four years with the Seattle Seahawks, so he's played in two Super Bowls. He expects to make a third trip in his ...
May 29, 2015
Blueprints for developing quarterbacks in the NFL don't exist. Over recent years it's become more common for teams to start their young prospects as soon as possible so they can learn ...
May 29, 2015
New England Patriots quarterback Tom Brady will have to wait until the end of June to officially appeal his four-game suspension following the Deflategate scandal. Continue for updates. Brady's Appeal to Be ...
May 29, 2015
The Atlanta Falcons waived linebacker Prince Shembo on Friday, according to Adam Caplan of ESPN Insider, after he was charged with felony aggravated cruelty to an animal. Shembo was later arrested by police, ...
May 29, 2015
St. Louis Rams running back Trey Watts was suspended for the first four games of the 2015 season for a violation of the NFL's substance abuse policy, per Myles Simmons ...
May 29, 2015
Atlanta Falcons linebacker Prince Shembo has been arrested on animal cruelty charges by Gwinnett Police after being accused of killing his girlfriend's dog.  Vaughn McClure of ESPN reported the news: Conor Orr ...
May 29, 2015
The Philadelphia Eagles hosted OTAs this past week, and there were plenty of storylines to follow, including the return of Tim Tebow to the NFL. Could Tebow earn a backup job ...
May 29, 2015
The Seattle Seahawks are poised to have a dangerous new weapon in Jimmy Graham, and this will add to Russell Wilson's ability to make plays. How does Graham help on offense? ...
May 29, 2015
When it comes to drafting unknown players with tremendous upside, few teams are better than the New England Patriots.Who could be a hidden gem from this year's draft? What makes ...