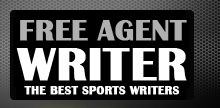 Yankee Addicts
Categories
Featured Sponsors
November 2016 Archive
November 30, 2016
We have officially reached the 13th week of the NFL season. Things will kick off on Thursday when the Minnesota Vikings host the Dallas Cowboys. There are five weeks remaining in ...
November 30, 2016
We've reached Week 13 of the 2016 season, and many of you have now reached your fantasy playoffs. Many others are entering the home stretch of their fantasy regular season, ...
November 30, 2016
Much of the NFL needs to offer a big, fat apology to Ryan Tannehill, why so many players hate Josh Norman and why Dennis Green was special.      1. The Dolphins ...
November 30, 2016
Malik Hooker and Mike McGlinchey are out—for now. Deshaun Watson and Mike Williams are in. The 2017 NFL draft class is starting to take shape in terms of which players ...
November 30, 2016
The AFC is reshuffling at a drastic rate. If it's not the No. 1 seed New England Patriots, it's the Miami Dolphins, who are on a six-game winning streak, or ...
November 30, 2016
Brandin Cooks wasn't targeted in the team's 49-21 Week 12 win over the Los Angeles Rams, and the New Orleans Saints wide receiver appeared to express his frustration with a ...
November 30, 2016
Looking to gain an extra edge, the New York Giants welcomed Peyton Manning to their training facility Tuesday. According to ESPN.com's Jordan Raanan, Manning offered a few pointers for how the ...
November 29, 2016
With only five weeks remaining in the NFL regular season, two teams have clearly emerged as the best in the league, according to sportsbooks monitored by Odds Shark. Despite dealing with ...
November 29, 2016
San Diego Chargers tight end Antonio Gates needs just one touchdown to top 110 for his career, per NFL.com Milestone Tracker. Gates had the same opportunity to simultaneously reach 110 touchdowns and ...
November 29, 2016
The NFL's declining television viewership has been a hot-button issue all season, and the league is reportedly planning to change the start times for games played in London as a ...