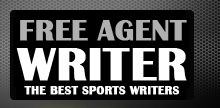 Yankee Addicts
Categories
Featured Sponsors
News published by
April 13, 2011
We all know that the Kansas City Chiefs had a great turnaround 2010 season. The Chiefs improved from a 4-12 team to a 10-6 playoff team. The architect behind the ...
February 18, 2011
   "Charlie Weiss is leaving", "Todd Haley is a egotistical coach who is impossible to work with", "Bill Muir will be Todd Haley's puppet", " Look at what a great ...
January 8, 2011
The Kansas City Chiefs made the playoffs!!!  Time to celebrate, right??  Of course, but there is just something not right when I watch them play.  All year I have been waiting ...
April 8, 2010
Scott Pioli has been the Chiefs GM for a year now and he has finally put his coaching staff together, now decisions have to be made.  Our defense has some ...