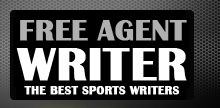 Yankee Addicts
Categories
Featured Sponsors
News published by
October 10, 2010
Cortland Finnegan is drawing plenty of attention to himself this year. Not the kind you get for being a great player on the football field, but rather for being a thug ...
October 10, 2010
Nearly a year ago, the Denver Broncos traveled to Baltimore to take on the Ravens as an undefeated team that was considered to be one of the year's biggest surprises. The game ...
April 28, 2010
Football is a game of inches. Games are usually won and lost in short-yardage situations. Even those pesky third-and-short situations, when the offense is nowhere close to scoring position, can ...