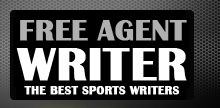 Yankee Addicts
Categories
Featured Sponsors
News published by
May 11, 2010
As many of us football gurus know, when players threaten to hold out then sign their tenders, they occasionally end up playing for a different team the next season. Guard Daryn ...
May 5, 2010
The draft is well in the rear-view mirror and the rookie orientation camp just wrapped up this past weekend. The Packers went into camp with a spot open for two tryout ...
April 29, 2010
My bold prediction for the 2010 season: Sam Shields earns special teams player of the year. Yes, I know that Shields is an undrafted rookie and is not even close to ...
April 26, 2010
This story hits on higher levels than the National Football League could ever become. Life is more precious than anything in existence. That's the dilemma that 24-year-old Jeremy Thompson was recently faced ...
April 26, 2010
The 2010 NFL Draft is in the books. It was a very weird and exciting draft. Who would have thought the Jacksonville Jaguars would take Tyson Alalulu with the 10th ...
April 16, 2010
In my last article, I was entirely against tackle at pick 23. However, I could deal with a guard, well more specifically the Samoan Mauler, Mike Iupati out of Idaho. ...
April 13, 2010
According to various reports, the Packers are kicking the tires on veteran running back Brian Westbrook. There are many concerns surrounding Westbrook, including his lingering knee and ankle injuries and ...
April 12, 2010
Here's a freak scenario for you: Jimmy Clausen somehow falls to No. 23, which isn't unheard of (see Aaron Rodgers 2005). The Buffalo Bills come calling with a trade offer. Their ...
April 10, 2010
The Packers were a team to be feared coming into the 2009 season. With the Brett Favre shadow almost completely gone, this team was Aaron Rodgers' to lead to supremacy. In ...
April 10, 2010
Today's Prospect: Kyle Wilson, Cornerback At only 5'10'', he doesn't fit the mold of a prototypical Ted Thompson corner. Thompson's preference is 5'11'' or taller, but in this case I think ...