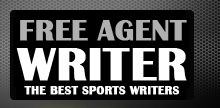 Yankee Addicts
Categories
Featured Sponsors
News published by
February 1, 2011
Late Monday night, around one in the morning or so, I was talking some football with one of my good friends. We all know that the best ideas tend to ...
January 25, 2011
Just two games remain before the NFL season comes to a close. Both the Pro Bowl and the Super Bowl will be entertaining, but only the latter truly matters. In the ...
January 22, 2011
With the NFL's Collective Bargaining Agreement set to expire on March 4, 2011, there is now a serious possibility that the 2011 season does not happen. We're all keeping our fingers ...
January 18, 2011
Tom Brady and Peyton Manning are not only two of the best quarterbacks currently in the NFL, but they're also two of the best ever at their position. Any time two ...
January 17, 2011
On Saturday, the Pittsburgh Steelers came back against their AFC North rivals, beating the Baltimore Ravens 31-24. Then on Sunday, they found out who they would be playing in the AFC ...
January 12, 2011
The divisional round of the 2011 NFL Playoffs is here. First, we'll see the Baltimore Ravens play the Pittsburgh Steelers in an AFC North clash. That will be followed by a ...
January 7, 2011
Pat Williams at 38 years old is already the oldest defensive player in the NFL, but that's not stopping this run-stuffer. He's said that he wants to play at least a ...
January 4, 2011
In the history of the NFL, quite a few quarterbacks have attempted to throw the ball to their receivers. Tom Brady is just one of those quarterbacks, but he's been ...
December 31, 2010
In the history of the NFL, only 57 "perfect" games have been thrown. Considering that quarterbacks have had over 30,000 opportunities to reach the magic mark of a 158.3 passer ...
December 30, 2010
It's the final week of the regular season and we have just a few playoff spots left. Motivation is the key in Week 17. The season is long and grueling, so ...